Design: Syeda Afrin Tarannum
">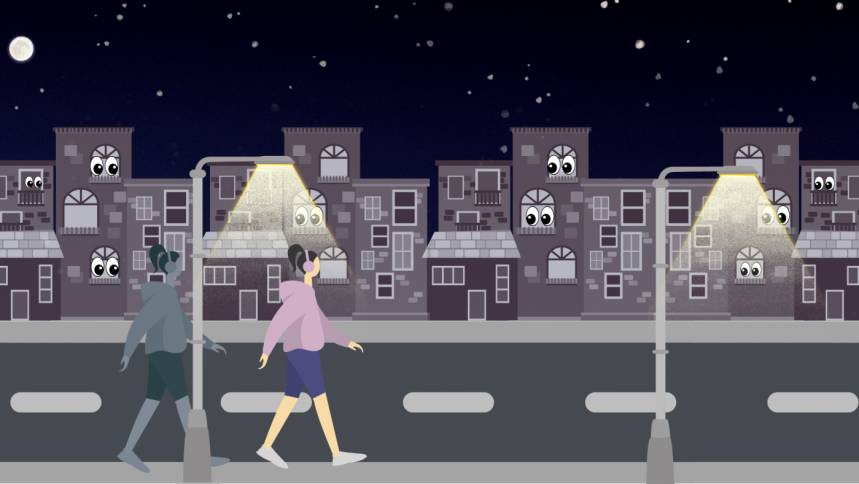 Design: Syeda Afrin Tarannum
After almost a year, my cousin recently took a few days off. She had no big plans; she just wanted to hang out with her friends and relax. She also had a great time. But the relaxation of the trip was quickly ruined when she returned home with her mother's dismissive air and tone.
Her mum (my aunt) was furious because she had come home at dawn.
For all the latest news, follow the Daily Star's Google News channel.
The only problem was that the people around, their neighbors, judged a single girl coming home at this hour. No one cared about his autonomy and free-thinking abilities. No one cared that she had the power to make the right choices for herself and the right to live a life she enjoyed.
Growing up in a Bangladeshi society often makes you feel like you have no power over your own life. You are asked and asked to conform to the point where your authentic self feels inauthentic. My mind wandered to many places as my aunt expressed her displeasure and despair over the incident to me, as she usually does. This time, however, he went straight to the idea of ​​being constantly watched, even near my own neighborhood.
It's strange how what Foucault said about prisons seems so applicable to my neighborhood, and I think it says a lot about our society. We modify our behavior to satisfy the perceptions of strangers, not because we care, but because our parents do. They seem to have become prisoners, subject to the state of conscious and permanent visibility, and inevitably preserve the function of power, reinforcing those values ​​in which outsiders manage to dictate the acts of life.
So we never got to play the streets like our male counterparts, never learned to ride bikes there, never visited nearby stores in our comfortable clothes, or went out wearing what we felt confident in, or does one of the other things that connects with your neighborhood and makes you feel at home.
In Bangladesh, where the practice of social control over people is embedded in the culture, people are under scrutiny. The idea that privacy exists often sounds like a myth. The people around us, like those on my street, have also tried to influence the way we behave. They have turned our home into a place we want to avoid and never return to. They made us feel unwelcome in places where we should feel safest.
While the eyes that follow me may never stop looking, we must strive to remove the power their gaze holds over us. We must try to deprive them of the only power they believe they have over us, the ability to regulate us.
Shadya Naher Sheyam tries to live life like Ashima from The Namesake. Talk to her about Mira Nair movies at sadianaharsiam@gmail.com