Chinese manufacturer Rockstar has launched a set of incredibly affordable prime lenses that both cost under $80. Manual focus 10mm f/8 and pancake 27mm f/2.8 fisheye lenses are available for Sony, Nikon, Fujifilm and Canon APS-C cameras as well as Micro Four Thirds.
Rockstar 27mm f/2.8
First spotted by Photo Rumors, the first lens is the 27mm f/2.8 fully manual side-angle manual focus lens for crop sensor cameras. The pocket lens offers a full-frame equivalent focal length of approximately 43mm on APS-C cameras and approximately 52mm when used with Micro Four Thirds. The lens consists of six elements in five groups and provides a 55 degree field of view with a minimum focusing distance of 9.84 inches (25 cm).
The f/2.8 aperture is fixed and can't be adjusted back and forth, but the small and inexpensive lens has a 55mm filter thread that allows the use of a neutral density filter. It won't help with depth of field, but it may at least allow a photographer to use a slower shutter speed in bright lighting situations.
The company says this 2.2-inch (58mm) by 0.95-inch (24mm) lens is ideal for taking small product and food shots as it provides "excellent blur effect" at close range. . The 27mm f/2.8 wide-angle lens is available for Canon EOS-M, Fujifilm X, Nikon Z, MFT and Sony E mounts for $59 from various sellers on eBay.
Rockstar 10mm f/8
Rockstar's second lens is a 10mm f/8 "fisheye" lens that provides an equivalent view of around 16mm (full frame) on most crop sensor bodies (APS-C) and around 20 mm on a Micro Four Thirds system. According to the product details listed, the fixed lens f8 consists of five elements in four groups and includes three extra-low dispersion (ED) elements packaged in a small Formula 1 tire-like design. It offers a distance of minimum focus of 12 inches (30 cm) with a 150 degree field of view and is fully manual with no electronic contacts to communicate EXIF ​​data to the camera.
The five-element lens weighs just 79.5 grams and measures just 2.3 inches in diameter (58 mm) and is 0.43 inches (11 mm) thick, making it one of the thinnest small fisheye lenses for these camera systems, and fits the true definition of a "pancake" lens.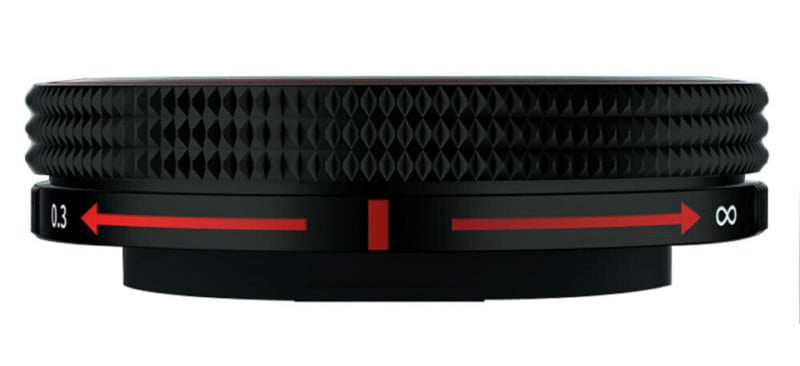 The manual 10mm f/8 fisheye lens is available for Canon EOS-M, Fujifilm X, MFT, Nikon Z and Sony E mounts from eBay sellers with prices varying between $65 and $75 depending on the supplier selected.
Given the fixed aperture and limited specs of both lenses, neither is likely to be groundbreaking or "wow"-worthy. However, for photographers looking for a very affordable way to test out those focal lengths or find the size appealing, there's not much to complain about for a lens that costs less than $80, even if it comes from a company with a limited reputation.