Canon has unveiled its first high-end full-frame zoom lenses for professional film productions. These lenses, known as the Flex Zoom series, offer a constant T2.4 iris and are available in 20-50mm and 45-135mm versions. Officially titled CN-E20-50mm T2.4 LF/FP and CN-E45-135mm T2.4 LF/FP, they might seem like a mouthful, but that can be broken down simply. CN-E refers to Canon's line of cinema lenses, including this author's personal dream lenses, Sumire primes and their various flawless existing zooms and primes plus these full-frame options. Read on to find out more.
The T2.4 might confuse those of you accustomed to purely photographic terms, where f/stop is usually the metering of choice. T/stops measure the exact light passing through the lens, which is extremely important for matching exposure across multiple camera setups in the film and television industries. F/stop is a physical measurement of aperture, but t/stop is how much light it lets through, and various lenses in the photographic industry give up a lot of that light as it passes through the lens , with many lenses requiring much higher ISOs than expected. The movie industry can't have that guess and needs to quickly match because every minute spent calibrating between lenses can mean hundreds or thousands of dollars, hence the more accurate T measurement. L means these are top of the line premium lenses, the same designation used for their best photographic lenses, those famous red rings indicating a level of refinement, build and image quality that signify the good results for your project.
CN-E20-50MM T2.4 LF/FP and CN-E45-135MM T2.4 LF/FP Key Features:
Designed for full-frame sensors
Constant T2.4 and wide focal length coverage
Advanced lens metadata support for Cooke /i technology MTZeiss eXtended Data MT and EF mount
Modular lens mount system [Supports EF/PL Mounts]
11 iris blades for beautiful bokeh
Supports 4K and 8K productions
Robust and compact design [approx. 3.3kg]
Both lenses in the range offer fantastic resolution and performance and, according to Canon, can handle HDR, 4k and 8k projects with aplomb. This means they should cater to a wide variety of use cases and provide shooters with plenty of options for creating high-end content to meet a range of cinematic needs. Both lenses offer consistent T2.4 over a wide range to cover the majority of focal lengths used by professional filmmakers.
They should be absolutely stunning for specular highlights and bokeh, with an incredibly fast T2.4 aperture and 11 iris blades to deliver natural, cinematic areas of focus in the image. They were also designed for high resolution video, delivering excellent quality even around the edges of the frame.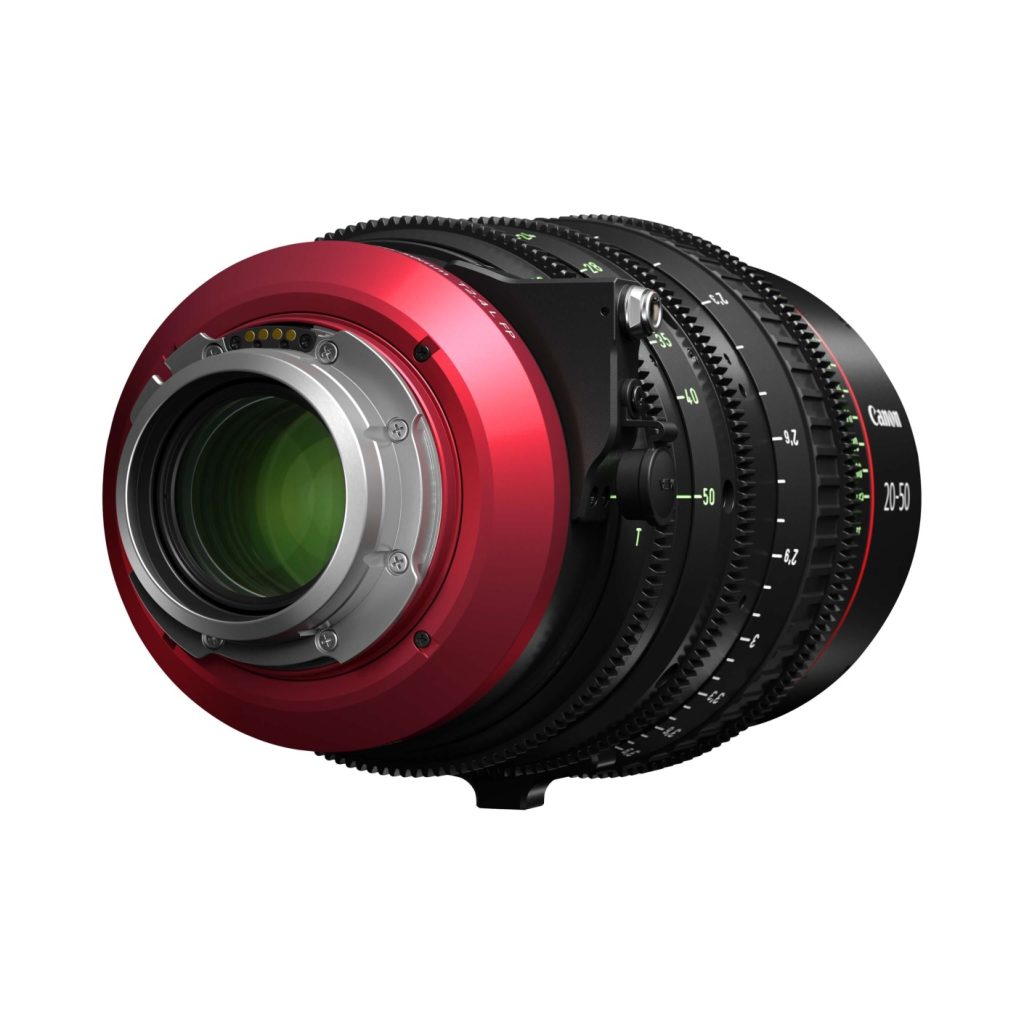 The 20-50mm, in particular, is a filmmaker's dream, going ultrawide when needed and down to normal, or providing a short telephoto angle with a Super35 crop..
The colors should play great with the CN-E primes to complement them in a DP's kitbag, offering a range of options with similar warmth and clarity. The lenses are matched in terms of size, both with a front diameter of Φ 114mm and a weight of 3.3-3.4kg across the 2 lenses and gear placement meaning changing one for others will be transparent and hassle-free. Another workflow enhancement is the interchangeable EF and PL mounting options, meaning they can accommodate a variety of productions as needed. Finally, they offer the two main cinema metadata formats, supporting both Cooke /i Technology ™ and ZEISS eXtended Data ™ to facilitate your workflow during editing. Alongside this, the lenses offer Canon's EF communication for aberration correction and Canon's remarkably useful Dual Pixel Focus Guide on production stalwarts such as the C300 mark III and C500 mark II. This feature alone would tempt me to add them to my arsenal if I were a Canon Cinema EOS shooter.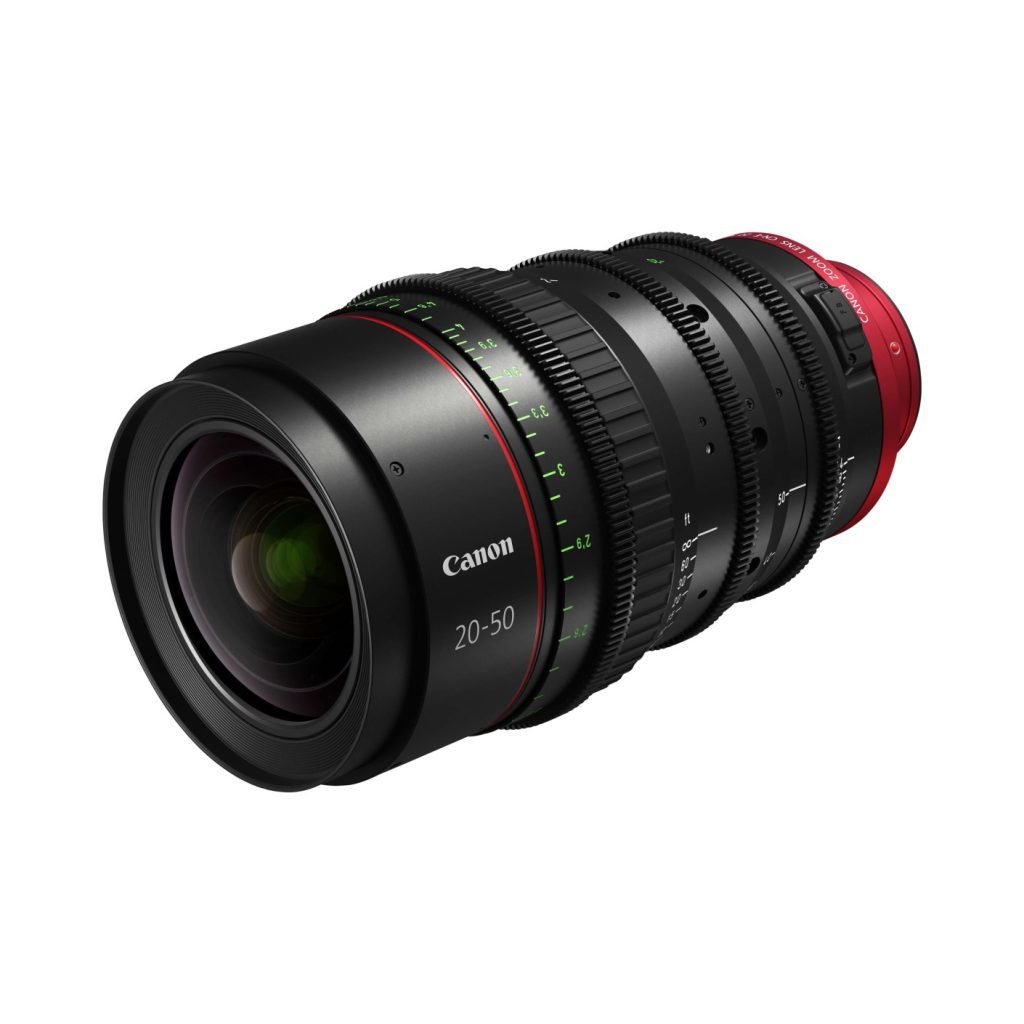 We love the look of these and the 20-50mm, in particular, is a filmmaker's dream, going ultrawide when needed and down to normal, or offering a short telephoto angle with a Super35 crop. The fast aperture means that even with this crop, the desired shallow depth of field in a conventional close-up can be achieved. Truly a great sounding pair of lenses that I can't wait to drool over and maybe use on set one day.
To paraphrase Steve Jobs or Uncle Jackie Chan's adventures, there's one more thing… Canon has also announced its latest broadcast lens, the UHD DIGISUPER 122AF. That means a 122x zoom range, covering 8.2mm up to 1000mm. There's also a built-in teleconverter to take it up to 2000mm! Oh, and it does all of this at a constant /1.7 aperture (which just shows). This stunning lens is aimed at high-end broadcast production, typically aimed at sports and wildlife with that remarkable versatility and image stabilization to boot.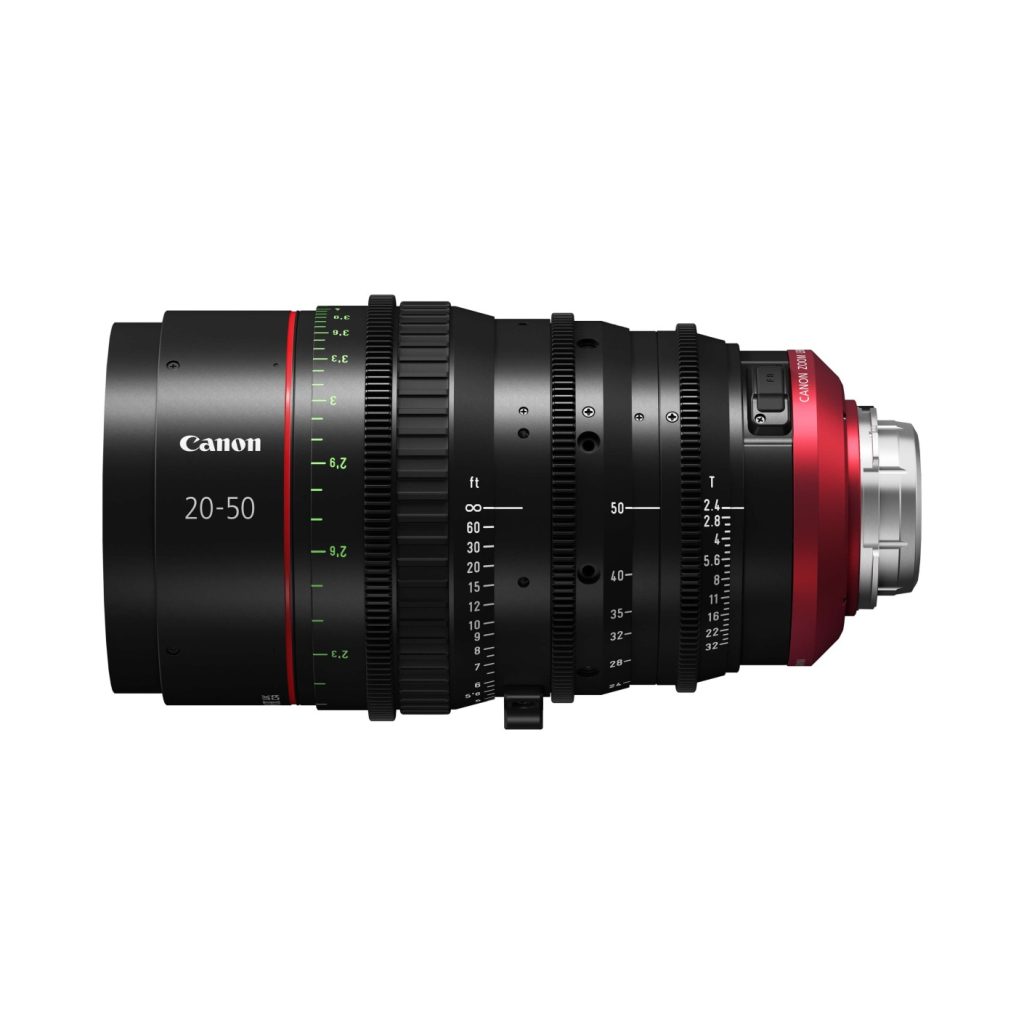 None of these lenses will come cheap, as you'd expect with the quality and brand name associated with Canon's high-end offerings, but expect a huge jump in price between full-frame Flex zooms and this 60 lb broadcast monster. They'll seem like a steal in comparison, at least that's how I'll tell the boss while we develop our new studio!
To find out more about these amazing new lenses, visit Canon's professional website HERE.